YETTER 5000 STALK DEVASTATORS  
It's almost the middle of August! 
Since I wrote this Monday morning, a huge portion of the Midwest was hit by the very powerful "derecho." After getting out yesterday, it looks like most of central MO was spared except for some flash flooding and tree damage (still have some small branches left in my yard). Heard of some corn that was lodged pretty bad. Mother Nature can be pretty cruel sometimes, and we hope that any damage that your operation may have sustained is minimal.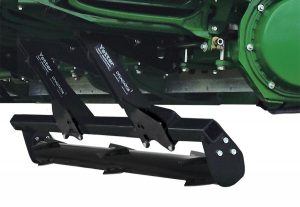 Yet time marches on, and harvest will be here before you know it. With that in mind, below are some of the features and benefits of the Yetter Stalk Devastators. We have heard some great things about them from customers, seen some good results from private trials, and it is time to really think about how we are going to handle residue, not only this year but in the future. One of maybe the most overlooked benefit, is saving wear and tear on tires, not only on the combine (lots of them have dual tires now) but also the four-wheel drive tractors pulling the grain carts (ten tires altogether). These tires are expensive to replace and downtime during harvest might be avoided.
If you are interested in learning more about the Devastators, give us a call or send us an email. 
Knock over and crimp stalks, facilitating faster decomposition and microbial break down of residue
Prevents damage to tires & hoses on combines, trucks, tractors, grain carts, and other implements
Preserves residue cover, reducing erosion, and keeping the residue from blowing over the winter
Mounting kits for most corn heads; they are quick and easy to install
 Solid steel construction; long lasting and reliable
Spring loaded and adjustable
Can be locked up for transport or when not in use
Will not interfere with most head trailers
John Viertel, Missouri Sale Manager