I was invited to attend a Virtual Plot Tour that was put on by FMC last week. They were talking about herbicide trials and showing how the different treatments were working. What I was really interested in was the new fungicide Xyway 3D and Xyway LFR.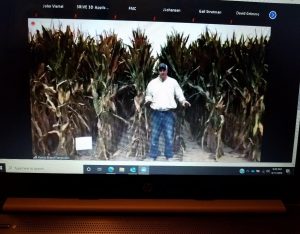 This new fungicide is applied at planting in furrow, using FMC's application system, 3RIVE 3D (which makes a foam that is laid in the furrow), or the LFR, which will be mixed with a starter fertilizer program. The label for LFR is expected later this fall for the 2021 season.
What got me excited about this new technology is that it will provide season long foliar disease protection, emergence to black layer! The benefits of this technology will be:
Unprecedented residual foliar disease control from an at-plant soil application.
Season-long, inside-out disease protection from emergence up to black layer.
Convenient one-pass protection at planting, ahead of disease onset.
Contains the highest residual and most mobile fungicide active ingredient (Flutriafol) on the market.
Xyway 3D is formulated for use exclusively with the 3RIVE 3D® application system, which saves water, fuel, labor and time.
The ability of flutriafol to move from the soil upward through the plant for the duration of the growing season has not been demonstrated by any other fungicide active ingredient.
With the LFR formulation, you will have the option of tank mixing other fungicides to protect against seedling diseases and/or insecticides, for protection against early season insect pressure. Being able to protect the corn plant from emergence to black layer, will give your corn better stress tolerance, stalk quality, and yield potential.
CROP CHOICE liquid starter fertilizer is the perfect fit for the Xyway fungicide program! We have had a lot of experience with starter fertilizer programs and have had good yield increases with the starter alone. Now, using this type of fungicide system which has the potential of gaining another 10-20 bushels per acre (very competitive with an aerial fungicide application), while having better standability and dry down comparable to non-treated checks, this type of program should be seriously considered for your operation.
If there are questions about a CROP CHOICE starter fertilizer/fungicide program, our contact information is listed below. It is not to soon to start thinking about the 2021 growing season!
My contact info:               jviertel@soilserviceinc.com or 573-680-6951 voice or text
Soil Service, Inc office:   info@soilserviceinc.com or 888-313-2360
John Viertel, CCA