Soil health is one of the greatest assets you can pass on to the next generation of growers. At SOIL Service, we specialize in helping you find the right equipment to prevent both soil degradation and nutrient losses.
We are an authorized dealer for Montag—an agricultural equipment manufacturer that values sustainability and efficiency. Since 2005, Montag has been building high-performance equipment designed specifically for nutrient placement and cover crops. The Montag goal is to make soil damage, nutrient waste, and low crop yields a thing of the past.
 Gen II – 2108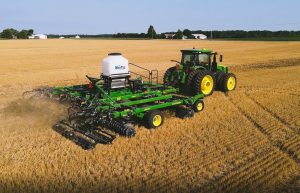 The Gen II – 2108 is a versatile, single-tank metering system from Montag. It is ideal for fertilizer application, but also gentle enough to safely meter cover crop seed. The 2108 can be mounted directly to the SOIL Service Rogue VT® to operate as a cover crop seeder.
Features:
Rate range of 25 lbs.–500 lbs. per acre at 5 mph; high-quality, injection-molded HDPE plastic augers eliminate need to change metering drive for full rate range
Sealed tank maintains air pressure between bins for greater row-to-row accuracy
Streamlined air system improves aerodynamics and reduces horsepower requirements
Single hydraulic input requirement
Rows can be added and subtracted to fit an operation's needs
All components that come in contact with fertilizer are stainless steel or plastic
Available tank sizes: 30 cubic feet, 50 cubic feet
SOIL Service offers several other soil health solutions from Montag:
Gen II – 2218
Gen II – 2208
Gen I Fertilizer System
Auto-Steer Carts