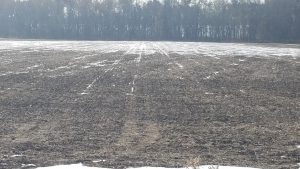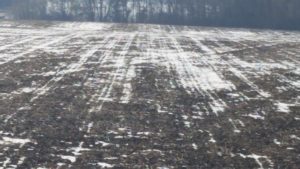 As the snow melted on November 14th, I was able to get these pictures from the field where the RENEGADE VT worked 20 acres in the same field that was being worked with an Aerway/Remlinger harrow. Wheat was drilled behind both machines. The photo on the right was run with the Aerway, photo on left, the RENEGADE VT. Both machines were set at 10-degree tine angle, the most aggressive. The coulters on the RENEGADE VT, were set at the deepest setting, and were going in 3 to 4 inches in depth.
As I was talking to one of the operators, he was adamant that the ride behind the RVT was so smooth, that he was able to increase his ground speed and the drill was still doing a great job! Another comment, he made, was that there would be less wear and tear on any planter or drill which followed the RENEGADE VT. We have said from the introduction of the VRT that there would be a noticeable difference in the ride after running the VRT versus the other machine.
Interested in what kind of a job the RVT does in corn stalks? Look at the YouTube video that we posted on September 18. This implement can really do it all!
Harvest is still going on in Missouri, and the ground conditions are wet from Monday's 1 to 3 inches of snow, if however, it does dry enough to do some more fall tillage, let us know. We can let you demo, or rent, a RENEGADE VT on your farm to see what true vertical tillage can do for your operation!
John Viertel